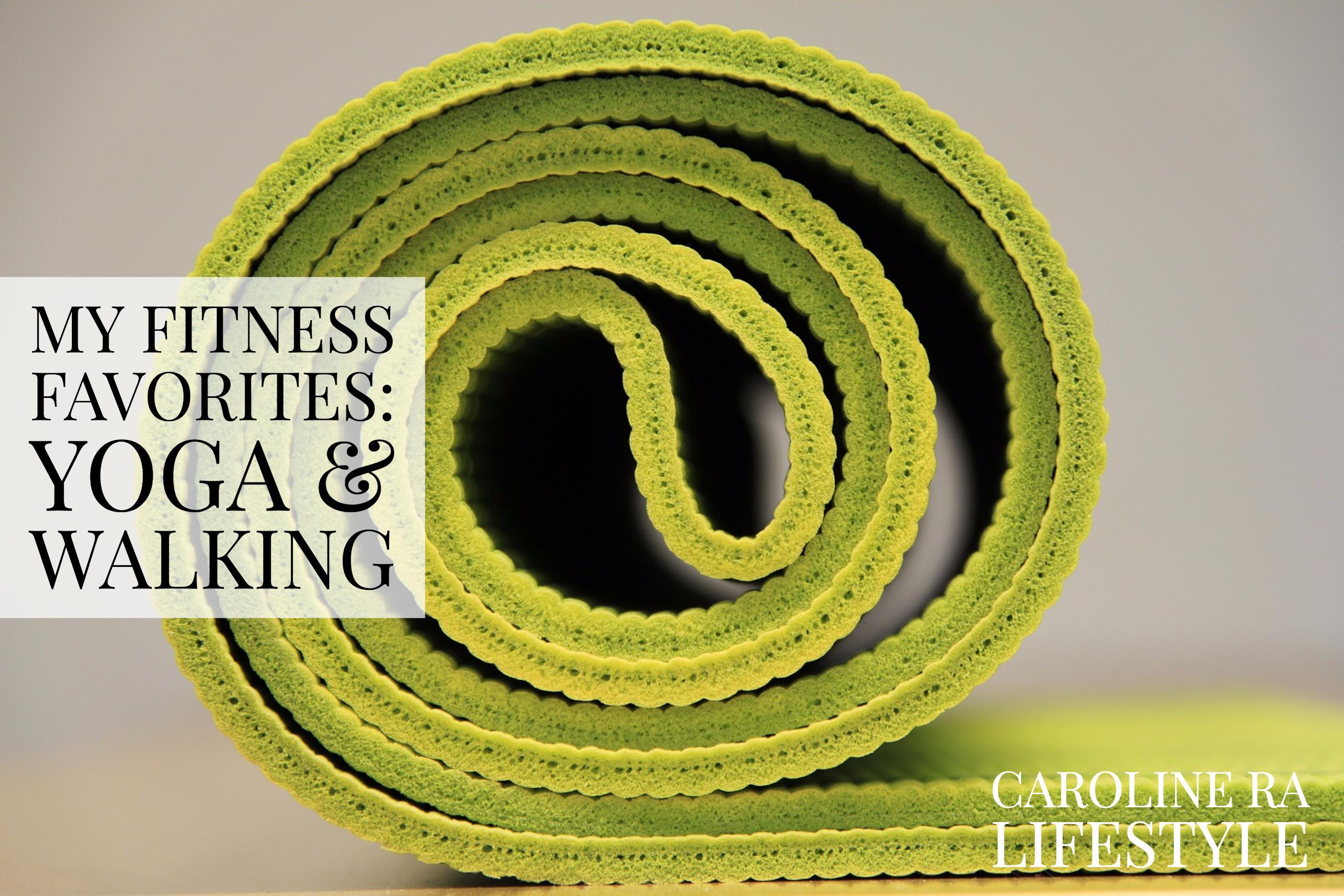 Enjoy this personal look into my fitness favorites as I share my life-long love for Yoga and Walking!
Yoga! Yoga has been a big part of my life since I was fifteen which was back in 1972! My first gym teacher in high school was fresh out of college and taught our class yoga, which was very unusual back then. I was hooked for life and often think about my first time doing a yoga pose. I fell in love with yoga in that moment and also discovered a new part of myself. Magical!
Yoga for me has always been a very personal, private time and I look forward to my special date with my yoga mat each morning. Though I chose not to go to yoga classes through the years, I did at one point work with a private trainer who was wonderful in teaching me proper form. But mostly I learned from books and then VHS tapes and DVD's as it was the years before YouTube and online instruction. My first video yoga teacher was Jennifer Kries and my daughter fondly remembers growing up watching her videos. Jennifer's background was as a dancer and she incorporated yoga with pilates and dance. I learned an enormous amount from her, but was ready for new. Then I worked with Rodney Yee videos, learned what I could, but his style was very linear and not right for me. And then I discovered Shiva Rea. I bought everything I could of hers and did her videos each day. I love her powerful, flowing, style. Her love of music and dance taught me to flow with my body, to listen inside, and ultimately, to move from within. If you love to flow as I do, visit Shiva Rea's gorgeous new website. Inspirational!
My love of yoga continues to grow stronger each day which opens the door for much more to learn. While doing a recent search for yoga to improve posture, I discovered Sarah Beth Yoga. Wow! I was hooked. Sarah Beth is amazing and everyone I recommend her YouTube channel to enjoys a renewed interest in yoga. Sarah Beth is a young woman who has faced some serious health issues. Yoga has helped her to manage her conditions and she brings a tremendous amount of wisdom to her teaching style. She also recently had a baby and took her students through the entire process – a fantastic resource. Inspired by Sarah Beth, the newest addition to my morning practice is plank. I've incorporated a 2.5 minute high plank into my yoga each day which has increased strength throughout my body and improved my posture tremendously! If you have been looking to begin or supplement your practice, check out Sarah Beth Yoga on YouTube.
My daily yoga practice is a compilation of all that I have learned from all of my amazing teachers and all that they have learned from their teachers and all that I will continue to learn. And I feel gratitude each day for that moment when I was fifteen in gym class, that moment that changed my life.
Walking! My passion for long walks also began in my high school years. I grew up in a beautiful neighborhood by the water on Long Island in a suburban area near New York City. I would take long walks each day. They were my way to find peace during those teenage years, be alone with myself, and move. I love that feeling of moving. I raised my kids by the water in Westport, Connecticut. Pretty much each day meant a walk over to the beach where I would sun bathe, frolic in the water, and experience true tranquility. Winter at the beach was a treat and I savored each seagull cry, each stone, each moment there on my own private beach.
One day the water said to me, you will be leaving here soon for the mountains. It is time to say goodbye. My visits to the beach were never the same after that. Deep in my heart I knew it was getting time for a big change for me and the kids, but no place was calling to me yet. A year and a half later the call came, and we packed up and moved to Ashland here in Southern Oregon where we have hills and mountains and miles of hiking trails. It is absolutely gorgeous, but I loved my beach years intensely and it took me two years to recover from leaving that lifestyle and truly embrace life here in Oregon. Now I cherish the ridge to the east where my beloved sun rises each morning and Ashland comes alive with a painted sky of greys and blues and oranges. Our neighborhood sits right above a university campus with steep streets built into hills and wonderful views – perfect for walking our dog Rose. When I'm on my own there are trails I can pick up nearby. And when there is time for an outing, my partner Jason, Rose, and I drive to the mountains for a real hike. We have our special isolated places we like to go to and make believe that no one else knows about them. Truly magical!
Yoga & Walking are so integrated into my life as Caroline. They have both taught me so much and provided me with health, fitness, time to myself, time to connect, and pure joy!
Do you also have a special love for yoga and walking or do you prefer golf and tennis? Maybe running and weights? Please share your fitness favorites in the comments below!
Copyright © 2017 Caroline Ra. All rights reserved.
Shop My Favorites At Amazon