Are you ready to get organized, get scheduled, get connected, get heard, and get your offering known? Discover 5 tools to get you there!
Get Organized with Trello
Trello is a fabulous tool for getting organized whether you are running a business, managing a blog, organizing home projects, or planning a wedding. I use it for Spirit of the Dawn, for my clients, and for organizing our home.
Trello says:
"Trello lets you work more collaboratively and get more done.
Trello's boards, lists, and cards enable you to organize and prioritize your projects in a fun, flexible and rewarding way."
With one free account you can organize your world into teams and then create colorful kanban-style boards with lists and cards. Colorful labels, due dates, and fantastic integrations with platforms such as Evernote and Slack make Trello a valuable tool. I love the color, the ability to upload photos, and the ease with which teams can coordinate projects. The free plan is feature-rich and I haven't needed to upgrade to meet my personal and business needs. though there are other plans available that unlock even more features and integrations Use my referral link below to learn more about Trello.
TAKE ME TO TRELLO

TRELLO EXPLAINS:
"So much more than just project management, Trello is the visual collaboration tool that enables teams of all sizes to get things done, in a fun and flexible way. Trello boards create a shared perspective on anything your team sets out to do.
Whether for work or fun, family or business (or family business) Trello is the shared tool for all of life's teams. Easily organize boards and members for every slice of life with teams. There's no limit to the number of teams you can create."
Get Scheduled with Calendly

CALENDLY EXPLAINS:
"CREATE SIMPLE RULES
Setup is easy. Let Calendly know your availability preferences and it'll do the work for you.
SHARE YOUR LINK
Share your Calendly links via email or embed it on your website.
SCHEDULE
They pick a time and the event is added to your calendar."

Calendly is a powerful and flexible scheduling tool. It allows my clients to easily check my availabilty and schedule a session with me and then be guided to my payment system without ever leaving my website. I embed Calendly right into any web page I wish for clients to interact with. My podcast guests get a secret link to a private url where they can pick just the right time to do the interview.
Calendly says:
"Calendly helps you schedule meetings without the back-and-forth emails"
For only $10/month I have a completely professional and highly customizable feature-rich scheduling system with editable details, reminders, and calendar integrations.
CHECK OUT CALENDLY
Get Connected with Zoom Meetings
I first began hearing about Zoom and its excellent webinar software. I looked into it and discovered they had a free plan for meetings. I now use it for recording my vodcast and for face-to-face meetings with clients. With excellent sound and video, Zoom has completely replaced Skype for me and brought my vodcast to life with live editing as the camera switches to whomever is talking or laughing or audibly reacting.
From Zoom:
"#1 Video Conferencing and Web Conferencing Service"
Right now the free plan works for my needs, but I'll happily upgrade to include more than one guest on an interview. Zoom's webinar software is on a different plan than Zoom Meetings, plus they offer other related services as well. The few times I have needed support in helping me to understand the system, they have always been very fast and helpful. Zoom is a wonderful way to establish a professional coaching or consulting interface – your own meeting room in the cloud!
Learn More About Zoom

Zoom EXPLAINS:
"Zoom unifies cloud video conferencing, simple online meetings, group messaging, and a software-defined conference room solution into one easy-to-use platform. Our solution offers the best video, audio, and wireless screen-sharing experience across Windows, Mac, Linux, Chrome OS, iOS, Android, Blackberry, Zoom Rooms, and H.323/SIP room systems. Founded in 2011, Zoom's mission is to make video and web conferencing frictionless."
Get Heard with Blubrry PowerPress

The PowerPress plugin for WordPress is free and also glitch-free. The player buttons at my website look fantastic, all of the subscriber information is coordinated, my podcast is instantly distributed to iTunes and a number of other podcast platforms. I pay an additional $20/month for Blubrry's podcast hosting which also provides me with analytics. They also offer other podcast-related services and support.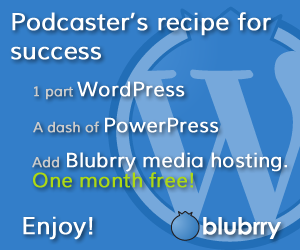 Have you thought about hosting your own podcast? It is a fantastic and highly flexible platform for sharing your offering, interviewing experts in related fields, and stepping forward on the playing field. I have done over 100 interviews and through that process I have learned so much from my guests and also made wonderful connections and friendships. On my website I use the Blubrry PowerPress plugin for WordPress. It completely streamlines the process.
Blubrry says:
"With more than 100 features and over 50,000 active installs, our PowerPress plugin is consistently upgraded and maintained to remain the most powerful podcasting plugin.
PowerPress is free, easy to use and optimized for all your podcasting needs.
Install with one click, configure the iTunes settings, then start podcasting!"
ENJOY ONE MONTH FREE PODCAST HOSTING!
Get Students with Thinkific
Online courses have become extremely popular and lucrative in recent years. It is a wonderful platform for sharing your offering with a wider audience. There are many services out there, but I truly believe Thinific is the very best of the pack.
From Thinkific:
"Empowering Modern Course Creators.
Thinkific gives you everything you need to easily create, market, and sell your own online courses. Say goodbye to tech headaches, and get back to focussing on your business rather than your tools"
I love the The Art of Raw Desserts Course Collection I'll be launching in June 2017 and the Thinkific platform and the culture that surrounds it has been a huge part of taking my course idea from concept to reality.
USE THE REFERRAL LINK BELOW TO SIGN UP FOR A PAID PLAN WITH THINKIFIC AND SPIRIT OF THE DAWN AND YOU WILL EACH RECEIVE $50 TOWARDS THEIR PLAN!
TAKE ME TO THINKIFIC!
Thinkific is a conscious business based in Canada and founded by Greg Smith. Greg and his entire crew are always supportive, intelligent, and caring. They run a fantastic Facebook group for their clients where other course creators share their secrets, their challenges, and their successes. Thinkific is always coming up with new ways to improve their platform. They offer several plans including a completely free plan which is great to get started with.
As you can tell, I thoroughly appreciate these 5 Tools for Conscious Entrepreneurs. All are proven to work great, are enjoyable and stylish to use, and have made a huge difference in how I run Spirit of the Dawn. Have fun exploring these tools and enjoy getting organized, scheduled, connected, heard, and better known!
Copyright © 2017 Caroline Ra. All rights reserved.
MORE TOOLS & INSPIRATION!