Spa Night! An experience my partner Jason and I look forward to sharing each week, pampering ourselves with foot baths and facials. This week, our Spa Night also had a theme courtesy of Actually Organic who sent me a bottle of their exquisite, cold-pressed, organic Argan Oil. You may have seen the many beauty products on the shelves which contain argan oil. I'm a big fan of them and have been working with argan oil in that way for years, but I had never worked with it in its pure form. We were in for a treat!
Argania spinosa is a low-branching, evergreen tree native to southwestern Morocco. The argan industry provides economic empowerment for women who work in cooperatives gathering and processing the oil. The kernels of the drupe-like fruits fall to the ground often with the aid of tree-climbing goats. Some kernels are then roasted and the oil extracted for culinary purposes, especially as a dipping oil for bread. The rest of the kernels are cold-pressed with the resulting oil being used as a key ingredient in beauty products. From hair to skin to nails, argan oil is treasured for its healing and nourishing properties.
Actually Organic travelled to Morocco and tested the oils of many farmers till they found the one they wanted to offer. Cold-pressed, organic, and 100% pure argan oil with a very faint, pleasant smell that disappates quickly. It is also remarkably non-greasy and extremely versatile. Below you will find our Spa Night recipes featuring Actually Organic Argan Oil. We started the night out with my giving Jason a Scalp & Beard Massage. Then we shared a Clay & Argan Oil Masque. While the masque set, I gave myself a delicious manicure, pedicure, and foot massage. All with amazing results! Feel free to do all of these treatments on one night or spread them out over a few nights. Enjoy the many gifts of this magical oil from Morocco!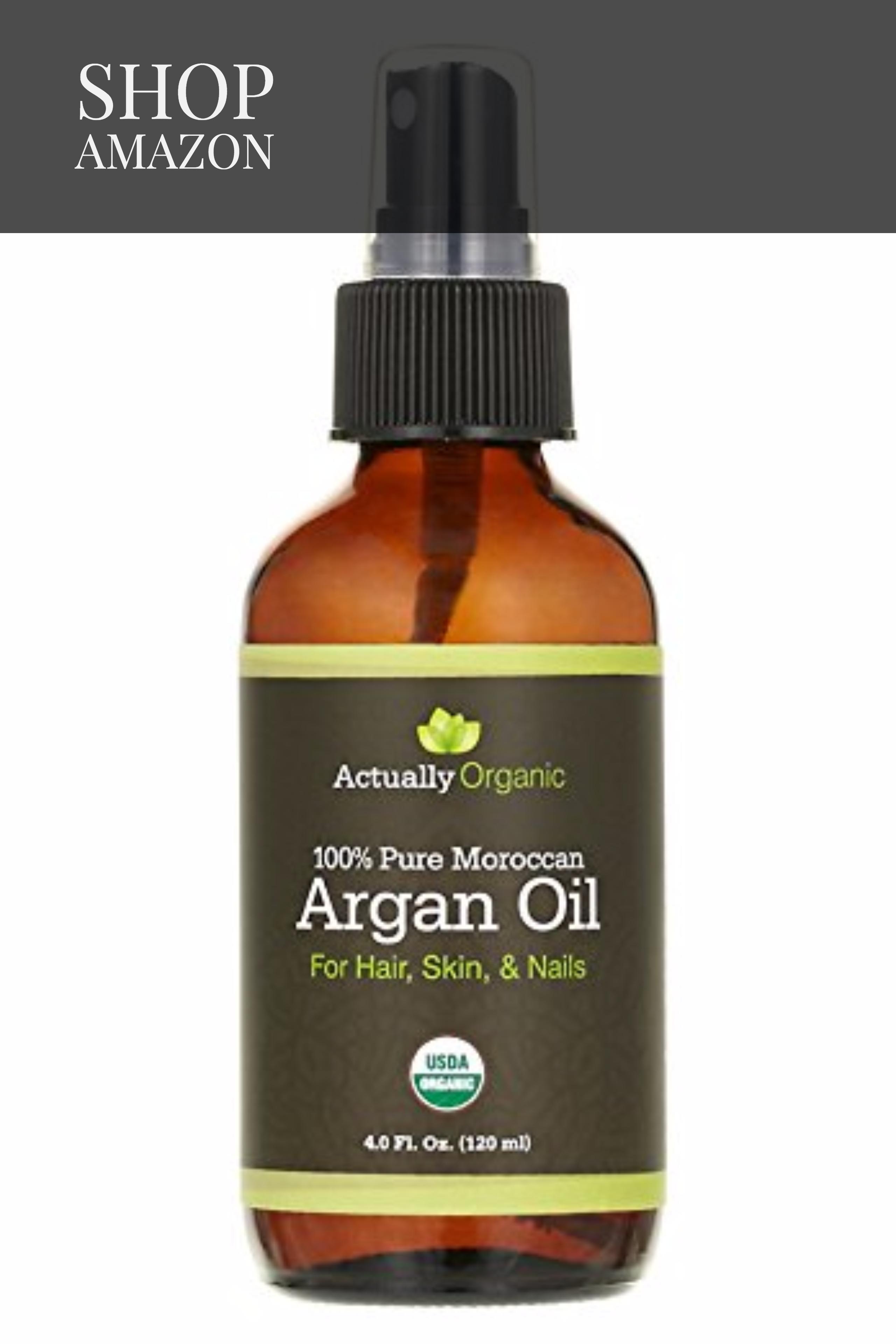 Scalp & Beard Massage

Massage 1 to 3 pumps of Actually Organic Argan Oil into the scalp. Add more for particularly thick hair. Do the same with beard area.

Delightful as a nourishing conditioner. Argna Oil's healing properties are especially beneficial for those with peeling and flaking scalps. Leave in overnight for deep conditioning.

Leave-in Conditioner

Add one pump Actually Organic Argan Oil to 4 ounces of water in a small spray bottle. Shake well. This will make enough for several applications. Store on shelf.

Spray all over freshly-shampooed, towel-dried hair. Brush and style as usual. Nourishing for damaged or dry hair and wonderfully protective to apply before blow drying.

Clay & Argan Oil Masque
Plus a Divine Nightly Skin Treatment

These amounts will provide enough for two facials or one facial and a chest or back treatment:

•1 Tablespoon Cosmetic Clay (we used French Green Clay)
•2 pumps Actually Organic Argan Oil
•Small amount of warm water (start with 1 Tablespoon and stir in more water in 1/2 teaspoon increments as is needed to create a thick paste)

Stir well into a thick paste and spread half of mixture on clean, make-up free face and neck avoiding eye area and lips. Share other half with your spa night friend or spread on your chest or back. Especially helpful if you have break outs in these areas. Leave on for 10 to 15 minutes. Rinse well with warm water. Pat dry with a soft towel.

After removing masque, moisturize by gently applying one pump of Actually Organic Argan Oil into facial skin and neck, dabbing gently onto delicate eye area.

Enjoy this detoxifying masque each week on Spa Night and the healing benefits of Argan Oil each night as a pre-bedtime facial moisturizer and eye skin treatment,

Manicure, Pedicure,
& Foot Massage

Prepare hands and feet by filing nails and trimming toenails. Rub 1 pump of Actually Organic Arganic Oil into the nail area of each hand and foot, using 4 pumps total. Using a metal cuticle pusher (or a strong thumb nail!) gently push the cuticle down and away from the nail. Repeat for all fingers and toes. I was amazed at how easily the cuticles were to push off of my nails. My hands and feet looked like I had had a professional manicure and pedicure!

Now apply one pump of Actually Organic Argan Oil to each foot and enjoy a much-needed foot massage. I applied extra argan oil to cracked areas on my heals with fantastic results! Leave on overnight for deep conditioning.

Argan oil is amazingly versatile! And the cold-pressed, organic argan oil from Actually Organic is exquisite. Have you developed a beauty routine using this amazing oil? Please share in the comments sections below.
Copyright © 2017 Caroline Ra. All rights reserved.
MORE TOOLS & INSPIRATION!