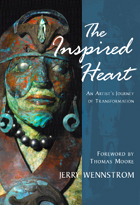 Artist Jerry Wennstrom joins Caroline for this fascinating interview.  Jerry discusses the book he has written about his life The Inspired Heart: An Artist's Journey of Transformation which details his decision to destroy all of his art at the height of his career and to surrender to a life without art or money.  Jerry talks about all that he gained and learned during this period and his eventual return to the world with his move to Whidbey Island, Washington. Jerry Wennstrom's wisdom and message reach people at just the right time for them as they face their own death and rebirth. I invite you to listen to Jerry's story and read his empowering book of surrender and trust.
Podcast: Play in new window | Download
Subscribe: Apple Podcasts | Google Podcasts | Stitcher | Email | RSS | More
Copyright © 2012-2015 Caroline Ra. All rights reserved.